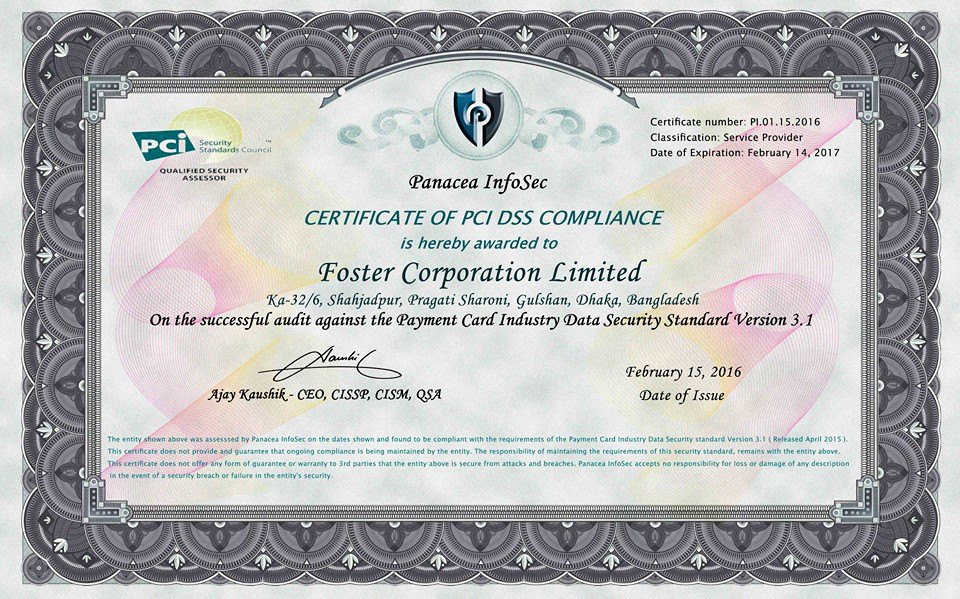 Recently, Foster Payments (the flagship brand of Foster Corporation Limited) has achieved the prestigious PCI DSS certification. It is the first payment processor brand in Bangladesh to achieve this certificate. The certification qualifies Foster Payments to collect credit card info directly and store them. Due to the high rate of mobile device adoption and internet usage, the capacity of direct collection as well as storage of card info will enable payment processing through multiple channels like voice call/IVR, SMS, USSD, Mobile Applications and Web directly with easy two-factor authentication. This will bring convenience with security and will help the local e-commerce and payment industry grow together.
The Payment Card Industry Data Security Standard (PCI DSS) is a widely accepted set of policies and procedures intended to optimize the security of credit, debit and cash card transactions and protect cardholders against misuse of their personal information. The PCI DSS was created jointly in 2004 by 4 major credit-card companies: Visa, MasterCard, Discover and American Express. As a leading PCI DSS compliance service provider, Panacea InfoSec is ideally placed to help entities become compliant and stay compliant with this standard.
Maintaining payment security is required for all entities that store, process or transmit cardholder data. Guidance for maintaining payment security is provided in PCI security standards. These set the technical and operational requirements for organizations accepting or processing payment transactions, and for software developers and manufacturers of applications and devices used in those transactions.
Such standards help ensure healthy and trustworthy payment card transactions for the hundreds of millions of people worldwide that use their cards every day. It is a very real and proven way to protect customer data from outside attacks. Online payment risk propensity increases if the payment gateway/processors are not PCIDSS compliant.
SSD-TECH Ltd. is the technical partner of Foster Corporation Limited and is proud to be a part of the achievement of its client!