Like an agile ferret burrowing through layers of complex data to unearth golden nuggets of information vital for business, Ferret BI Suite is the combustion engine that literally helps turn information gasoline into actionable insights for the business that include – what your customers want, who to target, when to strike and how best to do it. SSD-TECH's sophisticated Ferret BI Suite helps you dig deeper into reports to bring meaning to every bit of collected data on your market and your customers.
Business Intelligence systems are being used by enterprises to analyze large amount of raw data and derive meaningful information critical for taking business decisions. Traditional BI systems are normally hosted inside the corporate networks and the users can only access them during the working hours. The Ferret BI Suite is a ubiquitous BI system that can be hosted in cloud or any other web base servers, and can be accessed over laptop, computers or even by using smartphones.
BUILDING BLOCKS OF FERRET BI SUITE
Data Mapper
This is one of the essential components of the Ferret BI Suit. This component isolates the relational database from the end user which can be described as a semantic layer between organization's database and end user. Not everyone in an organization is expert in SQL. Hence, the SQL expert will use this tool to create a Global Class (can be compared with data model) which is visible to the end user and s/he will need not to think about the back end SQL.
Report Designer
With this component, user would be able to design his/her own query from the Global Class without having to know the back end SQL. The user need not write any code or any SQL. User can drag/drop and can make his/her own query.
Once the query is created, user would be able to create a report of his/her own design. And again user does not need to write a single piece of code rather can drag/drop to design the report. The tool supports different design components like horizontal table, vertical table, pivot table, bar chart, pie chart, line chart and so on.
Report Viewer
Once the report is created, it is readily available for the other users. Plus, user management components like user permission to a view a specific report, user assignment to a role is also present in this component.
One interesting aspect of this component is the Report Specific User Input. User will be given the choice to customize the user input of a specific report. This will allow user to enhance his/her report viewing experience. For example, if a user of a global organization wants to see the revenue of his country only, s/he can customize his/her user input of the "Revenue Report" to his/her country (or the desired countries). So, any time s/he wants to see the report, s/he will be seeing the report only of his/her selected countries as suggested while generating the report. The report can be exported and viewed in the following formats: pdf, excel, ppt, csv, txt.
Scheduler
This component is very useful for any organization's BI system. User would be able schedule any report in any format (pdf, excel, ppt, txt, csv) to email or to any folder location. However, the unique feature of this scheduler is that it can proactively deliver the same report to the different users with different inputs – meaning that the same report can be viewed by different users with different perspectives.
All of the components are web based and hence there is no requirement of installation. This Ferret BI Suit works for any MSSQLdatabase. The technology that has been used for the product are html, css, Javascript, jquery, .Net Framework 3.5.
The components and basic workflow of the Ferret BI Suit can be delineated by the following diagram: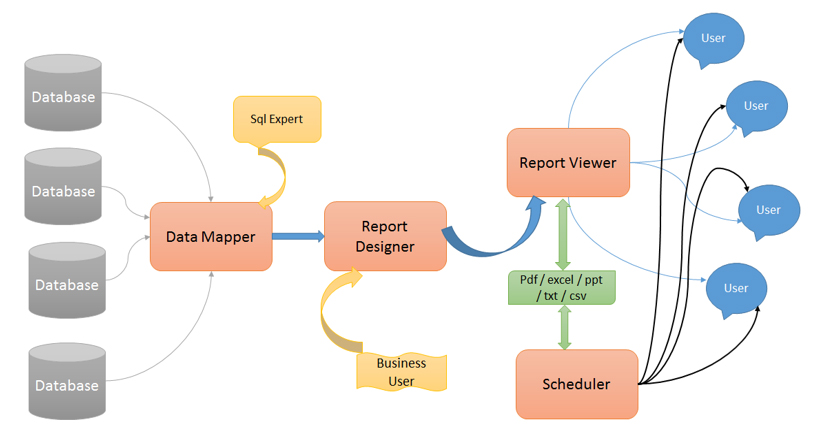 Ferret BI Suitewill play a proactive role in generating timely reports that are delivered straight to client's designated team players' inboxes. Ferret BI Suite makes it possible for decision makers in organizations to confidently plan and make strategic business moves as they explore different dynamic markets.
Beyond just a BI platform, the client of Ferret BI Suite actually plugs on to an inexpensive third party consultant. This BI Suite is like an inquisitive ferret – curious to know the needs and goals of the client's business, as they grow the business. With Ferret BI Suite, it's time the businesses made sense of the rapid un-ending stream of raw facts and mine the nuggets of golden information needed to materialize the full potential of the business.
Best Regards,
AGM Islam Saad
Project Manager
www.ssd-tech.com