"Why aren't you fixing the Internet Connection of the house? I am unable to use Facebook!" – There was a bit of dissatisfaction and impatience in the voice. It was one of my friend's mother (in her early 60s) who called the son to fix the home broadband connection that was disconnected for few days. This is where we stand now in 2015. Internet is less a technology than a part of lifestyle.
Let me tell another story of a friend who works in a large multinational telecom operator at a highflying role. Being a big time campaigner of mobile high-speed internet, he was quite reluctant to take a home broadband. However, one day he took a high-speed home broadband at the sheer demand of his wife. Few days later, we met at a friend's house. The expression from him was something noticeable – "Bro! I don't know what happened but me, my child and my wife are all the time busy with our tabs and phones. And my wife always calls me over Viber, Watches her drama serials on the tab. My son is busy with YouTube and games all the time!"
Another of my close friend was looking for a house. Naturally, his primary role was to pay for rents and bills – the selection responsibility was with his wife and daughter. Yet, out of curiosity he asked them what are the key aspects they will be looking into while evaluating a new house. The answer was – "the apartment design has to be Wi-Fi friendly – we have to get good Wi-Fi access from our rooms!"
When I look at myself, I am a regular internet user since 1997. If I look at my pattern of usage and dependency on internet – the appeal and positioning is access to information, email, productivity, remote audio/video conferences across geographic location etc. – pretty much business matters. Same goes for my friends and peers. I am always keen to have a good broadband at home mainly to stay in touch with my work. Initially when we used to have speeds in XKbps my family members were not that interested in using Internet. It was like a work tool for me only.
The scenario is completely different for the family. May be I will be able to stay calm and bear with an incident of having unavailability of internet – but if I look at my wife and son – they may even prefer to have an interruption in water supply or gas supply of the house rather any interruption of internet service. And undoubtedly my son's internet usage is solely governed by my wife!
Today we can use social networking and internet synonymously. Around 80% of people use internet for socializing – staying in touch with friends and family. In many countries, the figure is more than 90%. More than 55% users of Facebook are female. In general, this is true for most of the social network site. May be this is a good time to relook at the positioning of Internet from a tech product to a lifestyle and social product and look forward to reposition in a new user segment.
Women plays a vital role in influencing purchase decisions especially on the day-to-day lifestyle items. Looking at the transition of internet from a tech commodity to a utility service – it can be a good time for the digital products and service providers to start considering women as a prospective driver for the business growth.
On the month of Women's day – I look forward to the spirit of #MakeItHappen and wish all the women across the world a Happy Women's Day! You have made it happen always and will be making it happen again and again!
Firoze M. Zahidur Rahman is the CEO of SSD-TECH Ltd. Mr.  Rahman can be reached at jewel@ssd-tech.com
Signaling Gateway – Bridging Communications Protocols
by Tariqur Rahman
On our way to work in the morning, I am sure that most of us have realized at times that we have left our mobile phone back at home. There have been times where I had even realized this after reaching office and I did not have enough time to go back and get it. Spending a whole day without the mobile phone, I found it to be a big mess when I felt disconnected from numerous contacts.
It is amazing how dependent we have become on the cellular/VoIP technology and it is even more amazing how helpful it is to us. As of today, over 4.8 billion people in the globe (which are two out of every three people) communicate over phone and it is projected to be almost 5.37 billion by 2018. The same scenario is portrayed in the VoIP Industry. VoIP communications, collaboration technologies like voice/video conferencing, instant messaging (IM), VoIP telephony, IP PBX have just become an integral part of our daily communication. But what goes on in the back end? How are we enabled to get connected with others? Let us have a basic overview.
Suppose I am calling my friend "Ana" over the IP network. It might be a voice call, a video call or any other call such as one for conferencing purpose. To make the call, I will basically be going through two components.
The Signaling Gateway (SGW), and
The Media Gateway (MGW)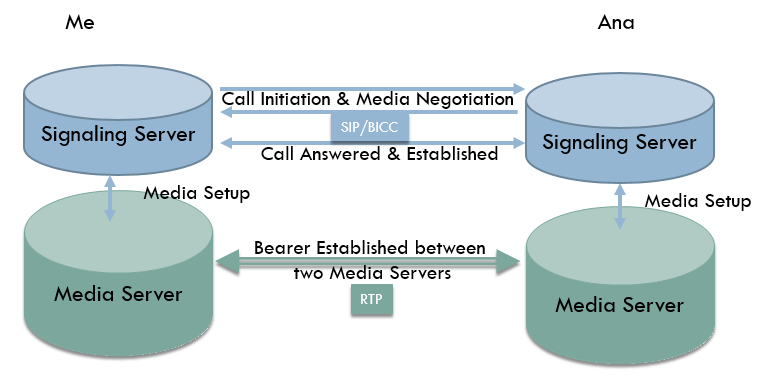 The signaling gateway first establishes the call by negotiating the necessary signaling information. Once the signaling is performed, the call is established and the actual media (voice, video data, etc.) are communicated in between the respective media gateways. The SGW is performing the most important part which is to establish the call, to control the session, and to disconnect the call when it is over.
SSD-TECH's SGW supports a number of protocols like SIP, BICC, and ISUP. Most importantly, it is a protocol translator. It is necessary when two or more networks, which use different signaling protocols, communicate with one another. A BICC supported network can send signaling requests through BICC protocol and a SIP supported network can send signaling requests through SIP protocol. The SGW is a protocol translator which basically means that it understands both the protocols and can translate the signaling requests from one signaling protocol to another. For example, it can translate requests from BICC to SIP, and vice versa. It is like an interpreter who understands both the French and the German language and is translating the messages from the French person to the German, and vice versa.

SSD-TECH's Signaling Gateway will be the best signaling solution for your cost effective, reliable, and high volume connectivity.
Happy Signaling!
Mr. Tariqur Rahman is a Tech Pre-Sales Engineer at SSD-TECH Limited. He can be reached at tariqur@ssd-tech.com